(click on pics for a larger version)
---
When:
Where:
Weather:
Who:
Sat/Sun., December 16-17, 2006
Pre- and In-Transit Days
Cool but clear
The Two of Us
---
Saturday, Dec 16, 2006. Drove up to Philly and stayed at the Hampton Inn Park and Fly. Being tired we walked across to the Ruby Tuesday for dinner. Uneventful.

Sunday, Dec 17, 2006. Shuttled over to PHL to catch our wide body USAir flight to SJU on a Boeing 767. Nice 2-3-2 seating with comfortable seats, if a little close to each other, but plenty of underneath legroom. Landed at 12:30pm, secured our luggage and caught the shuttle to the National Car Rental lot where there was a GMC Envoy waiting for us -- not bad for a full-size at $208/wk. Doesn't Alex wish he was with us this year! The car is perfect to the roads down to Wilderness. We pulled into El Buen Café but there was not a parking spot to be had and there was even a short waiting line. We bagged it and continued down the highway in search of a bakery for maybe some café and pan. We found a nice little place just before Quebradillas (before Guajataca), ordered a Cubano and Medianoche and a couple of oh-so-good café con leches. Driving by Guajataca you could see a lot of chop on the water from the easterly trades. We checked a few of my favorite coastal spots along the way. Promising, but very small. We unpacked, ordered a traditional piña colada, finned up the board and ran into town but just a moment too late for the store. Very rainy, showery, and cool for a first day! Ann and Jim are not here, nor are the BrianJ family. Villa Cofresí was not very crowded.

Salsa music on your FM dial: La Zeta, WZNT FM 93.7 (San Juan), WZMT FM 93.3 (Mayagüéz) and WZET FM 92.1 (Ponce).
---
When:
Where:
Weather:
Surf:
Tides:
Who:
Monday, December 18, 2006 - all day
Surfers' Beach
Partly Sunny and clear, air mid 80s, water ~upper-70s (trunks & short sleeve lycra, really nice!)
2-3' semi-clean and no current
Not sure (no big deal with less than a 2 foot tide swing)
Just five of us initially before the "Gaggle of 12" showed up
---
Name of Day? The alarm went off around 6:15am. Rolled over, still very dark outside with the lingering clouds. Beth joined me for the trip in search of waves. Very small along the west coast so we continued north to Wilderness after picking up some coffee, bread and newspaper. Wilderness area is very small with about 4 longboarders bobbling just east of the parking lot. The road down the hill was graded so a compact would have no problem this year. Still some nasty water holes along the beach road. We headed over to Surfers Beach. Nobody out. A car of two gringo couples from Claremont, San Diego pulled up. We all paddled out. About 15 minutes later another car of 4 shows up and paddles out. Another 15 minutes and 6 guys show up out of nowhere and paddle out. Suddenly, the passable 2-3' waves become rather ordinary and marginal. However, the water is very clear -- ain't it nice to see the sea bottom, hell, even the orange dots on my flippers! I caught a wave and paddled in within the half hour, mission accomplished: the board has a base coat, I loosened up and caught a few waves. Grinds: Split a jamon, huevo y queso sandwich at the Panaderia cafeteria Borinquen, washed down with Cola Champagne and café. Checked out spots along drive home - very small. After showering, did the Econo supermarket run and drove into Mayagüez to watch a movie, The Holiday.
---
When:
Where:
Weather:
Surf:
Tides:
Who:
Tuesday, December 19, 2006 - late morning
PdP
Sunny and glassy, trunks, lycra short sleeve and SPF45.
3-5' w/no current
Can't remember
Three others

---
Surprise! Not expecting swell for the next few days I slept in until 9am. We ate breakfast and I noticed some waves breaking in the distance. Beth joined me for a "local" surf check. There were some longboard bobbers at way-inside Maria's Beach and a gaggle of cars and wave riders at Domes. No wind. Hmmm... ventured to one of my local spots where three people were out and waves were a glassy 3-5'. Surprise, surprise. Paddled out to discover the kook deep within. Caught maybe one wave during the first 45 minutes. This past year has been too fat, too lazy and too surfless since the trip to Costa Rica last March. Either too much work or not enough swell during April-November (excepting mangled foot GuidoPalooza). This is embarrassing. The he and she surfing couple paddled in and I eventually started to dial-in and catch several waves over the next hour. Still doesn't change the facts: I am too old to show up so out of shape. Grinds: Grabbed some lunch at Eileen's Place - roast chicken and spare ribs plus arroz y habichuelas, and headed back to Villa Cofresí. Tomorrow is dawn patrol.
---
When:
Where:
Weather:
Surf:
Tides:
Who:
Wednesday, December 20, 2006 - morning
PdP
Sunny in the 80s, trade winds late in morning
3-5' and very clean
Not a factor
Just the few of us

---
Funtimes Surprise. Didn't exactly dawn patrol it this morning. Didn't see much in the way of swell at dawn's early light so hit the sack for another couple of hours. While sipping morning coffee there was an inkling of a little motion in the distance so I grabbed the board and gear and headed north. Found a shortboarder and bodyboarder, Eddie and Carlos, out at PdP in some fun looking, clean 3 footers with occasional clean-up sets. Shared waves for the first hour and surfed solo the second hour. Caught a wave worth remembering today, a nice 4-5' peak with a good shoulder that developed as the wave tubed to the inside, some good cutbacks and a real nice steep re-entry over the shallow coral reef. This wave is real fun on the inside as the little curl keeps spinning in 1 foot of water. Grinds: Lunched late at the Paradise Restaurant: we split a plate of rice and bean, a criollo turkey sandwich and each had a fresh 16 oz of orange juice (mine with a trago of 3 Star Barrilito served up by the Capitán). For dinner, we shared a medianoche before the movies, In Pursuit of Happiness, a story about a man and his son that ended up living homeless before he made it big time with Dean Witter.

---
When:
Where:
Weather:
Surf:
Tides:
Who:
Thursday, December 21, 2006 - morning
PdP
Sunny and mostly glassy until noon or so
2-4' and clean tight curls
Not a factor
Solo session

---
Winter Solstice Day. Almost achieved dawn patrol today! Hit the road at 7am and drove straight to PdP. Very little movement in the water that meshed with the view from our porch at Cofresí. Drove into town to get a café con leche and pan francés before moving over to Little Teapoo to chow down. Headed back to PdP where a bodyboarder was out. Watched for a little bit and decided that the 2-3' conditions were too nice to pass, so I paddled out. About the same time the bodyboarder caught his last wave in so the break was mine for the next two hours. The waves became a more consistent 3' with several 4-footers moving through. My arms and legs tired quite a bit from catching so many waves and paddling back and doing it again. Fun! The water was beautiful, the sunlight turning the surface into aquamarine. What a contrast to the black waters of N. Oregon one month ago and the brown/dark green waters of the DelMarVa. Later on, we did some shopping in Rincón, including a stop at the town's best surf shop, Surf Zone, owned by Renee (son of a former schoolmate of mine at La Escuelita). Fito Gonzalez was working and welcomed me with a grande high five and "rod-Nnn-Deee-tuuuuube." Renee is busy operating the new skate park in Rincón and Fito demurred that surf season had been very slow this year. Grinds: Dined on chillo entero at Bambino's.
---
When:
Where:
Weather:
Surf:
Tides:

Friday, December 22, 2006
Agüeybaná
Sunny, light winds
3-6' with a southerly current
Not a factor

---
All Gone. Semi-DP today. White water was showing at the indicator spots. Checked Maria's but it wasn't working. Domes was disorganized, but showing swell and a dozen or so folks in the water. Today I surfed Agüeybaná, a spot that neither Alex nor I had ridden in many years. The waves were running 3-6' with some nice sections and tubes. Neglecting to kick out early enough on the rights meant getting swept into a strong southerly current on the inside, riding the white water in to the shore and walking back up the beach. That happened to me way too often today! What ended up being my last wave was also my best. After bottom turning below the lip, I turned hard with the veranda overhead and then as I banked off-the-top the lip busted into my eye and blew out my right contact. I paddled back out after the end of the ride with the one contact really affecting my depth perception so I caught a wave in and called it a session. Not bad timing as the waves were beginning to diminish in quality and the other bodyboarder and two shortboarders also came in. Shortly later we all converged upon PdP, along with the bodyboarder I had surfed with two days before. Alas, the waves were not lining up well so we said our goodbyes. Checked Domes and Maria's on the way back to the villa -- Domes wasn't doing much and the crowd was en mass at Maria's. Ay coño - 40 people spread out from the point to the main break. What a crowd in the nice 2-3' waves. Rank amateurs were setting up close to the point. Disgraceful :(

In the early evening we drove into Mayagüez to have a look at the holiday decorations of the renovated plaza and city hall and to grab a bite to eat at the old time panaderia RicoMini (awesome medianoches and flanes and excellent espresso café con leche, Address: 101 - E Méndez Vigo Mayagüez, P.R., two blocks north from the plaza). We were pleasantly surprised to learn that there was an evening celebration and entertainment for Dia de la Bandera (Flag Day) and Christmas. In addition to the local politicians' long, articulating speeches on Bandera Day, we were entertained by several holiday pieces by the Mayagüez symphony orchestra. We topped off the evening with Rex Cream cones of parcha (passion fruit) and coco. The evening closed out with Friday night karaoke at Villa Cofresí (lol).
---
When:
Where:
Weather:
Surf:
Tides:
Who:

Saturday, December 23, 2006 - morning
PdP
Sunny in the 80s, trade winds late in morning
4-8' with regular o/h sets
Did not matter
Alex, myself and 3 to 5 others, very nice

---
¡WEPA! Up just past daylight, I checked the indicator point. There was definitely some swell but it did not look very promising, maybe smaller than yesterday. Bypassing Maria's and Domes, my first surf check was PdP. Three bodyboarders and a kneeboarder were out. After witnessing a nice tube ride by the kneeboarder it was a no-brainer. Paddle out! I didn't catch a wave for my first 10 or 15 minutes in the line-up. Sitting out further than the rest and more to the south I suddenly hear some yells, "¡dále, dále!" and proceeded to paddle into a solid overhead wave. Ha ha, ending up taking off a little too deep resulting in the lip simply crushing me. Paddling back out I smiled at the boys, 3 of whom I'd surfed with during the past week. Sitting out and over again, a sneaker clean-up wave came barreling in. Glancing over to the gang, my expression was a big "whoa!" and I proceeded to paddle into a thumping, spitting 8-footer that crackled as I made the drop and the boys hooting. The wise guys asked me as I paddled back into the line-up, "¿Como te gustan las olas de aqui?" What a loaded question! Caught several more of those set waves, all lefts breaking on this relatively shallow reef. Everyone was ripping and having a great time... and smiling at the epic, glassy, uncrowded conditions. Tubes, faces, driving fast lines, floater re-entries. Call the waves 4-8'. Stopped by the Panaderia Gabriel to pick up a café and guayaba pastry and drove back to watch some of the riders. Two of the bodyboarders had just come in and 2 shortboarders were out, the waves had declined, and my body was dead tired. ¡¡¡WEPA!!!

In the late afternoon several of my former schoolmates stopped by Villa Cofresí for a multi-year school reunion, including a few from my graduating year. It was great to see Marlyn again after so many years! The fourteen of us all dined together later in the Pirate Cofresí's dining room.
---
When:
Where:
Weather:
Surf:
Tides:
Who:
Sunday, December 24, 2006 - Christmas Eve
ISO waves along the west coasts
Clear skies with increased winds below Domes
Ranged from 2' to 4' depending upon the area
Not Sure
A few others but not me
---
Christmas Eve Day. Did not surf. Checked a few spots. Observed sharply declined wave heights and crowds at all the places showing, including RG's, PdP and Agüeybaná spots, not to mention my dead body. Grabbed a café and pan in town and went back to PdP to watch and talk story with some of the local guys I had been surfing with the past several days. Later on, my former schoolmate, Betty D. and her husband, Beth and I drove into Rincón and Maria's Beach to do some t-shirt shopping before lunching at El Galleon, all dining on mofongo (a shrimp, 2 lobsters and 1 chicken). The three others also feasted on a conch appertivo while I snacked on some sorrullitos. Betty emails me to tell Beth later, "More Mofongo!!!"
---
When:
Where:
Weather:
Surf:
Tides:
Who:
Monday, December 25, 2006 - morning
Wilderness
Sunny/mid-80s w/increasing easterly wind.
2-4' and clean
Not sure
Small group... and then the surf school
---
Santa Day Surf. Beth joined me for a traditional early morning search for Santa Surf. I always like cruising through the towns and barrios with no traffic and the kids enjoying their gifts early in the morning. The swell is decaying rapidly so we headed north. Wilderness showed one longboarder off the south parking lot bobbing alone. At Surfers' Beach we found bumper to bumper cars parked and a mass of people in the water. Jobos was also very crowded. Nothing was happening at La Crica de Marta, so we headed back to Wilderness where a dozen or so were now out in the water. Pre-Surf Grinds: But not before stopping for some empanadillas and alcapurria at the roadside stand with the best frituras around, just west of Jobos. Time to Hit the Water: The weather was beautiful and the water was clear so I paddled out since future swell prospects were further diminishing and... it was beautiful out! Paddled north towards Shithouse to catch a peak away from the crowd before settling back on that nice left setup. Then a potential disaster struck as two super extended panel vans showed up with a dozen boards... surf school! Yikes!!! Thankfully for us they set up in the cove area and away from most of the decent breaking waves of 2-4'. Unfortunately for them there were virtually no waves breaking where they were. They seemed to be having fun anyway :) The surf instructor was the fellow named Shayne that has done several trip videos called "On Surfari," on FuelTV. For dinner we dined at Villa Cofresí.
---
When:
Where:
Weather:
Surf:
Tides:
Who:
Tuesday, December 26, 2006 - morning
Nowhere
Sunny/mid-80s
Nothing worthwhile (unless you like crowded 1-2')
Did not matter
Not me!

---
Dia de Franco. Checked a few spots, no surf. Made lazy rest of the morning before driving down to Mayagüez and San German. Our first stop was the old panaderia down near the water in Mayagüez, Panaderia Franco, renown for their brazo gitano (jelly roll cake). Staying for lunch was impossible to resist, so a cubano and sandwich de tuna we had, followed by the complimentary slice of brazo gitano topped with a scoop of helado vanilla. On the return trip from a failed visit to a handicrafts store of a former schoolmate, we stopped in Mayagüez to watch a movie, the "Good Shepherd."
---
When:
Where:
Weather:
Surf:
Tides:
Who:
Wednesday, December 27, 2006
Did not surf
Sunny with moving clouds, windy
Probably very small and blown out
N/A
N/A
---
Little Green Men (Venture to X-Files Country). Today we visited the Arecibo Observatory and Radio Telescope (see more in Wikipedia), quite an amazing site, by way of Aguadilla to Hatillo (see blue lines on map below) and on to the site in the Karst hills. Being without an Internet connection for nearly two weeks we thought maybe we could make contact with intelligent life on alt.surfing or the Annapolis Surf Club: mission failure on our SETI quest!

To our surprise the site was packed - thankfully we missed the early opening rush of 12 noon. After touring the site, we drove home using the scenic mountain route through Lares (birthplace of the independence movement), San Sebastian and Añasco. We had planned to drive back through Moca (also known as "La Capital del Mundillo," or capital of lace), which was celebrating the Day of the Innocents in high costume (similar to Hatillo's Festival of the Masks), but were caught behind eight parandas in San Sebastian, so we detoured onto a beautiful winding road through the mountains (with virtually no traffic!) towards Añasco. There is a great ice cream shop across from the plaza in Lares where we purchased some cones of smooth parcha and coconut full of shavings and enjoyed on the Plaza de la Revolución. For dinner we tried a new place in Rincón, just south of Cofresí, Ajontos. It was ok, but no great shakes. No empandadillas at Las Curvas this year - it was packed every time we drove by.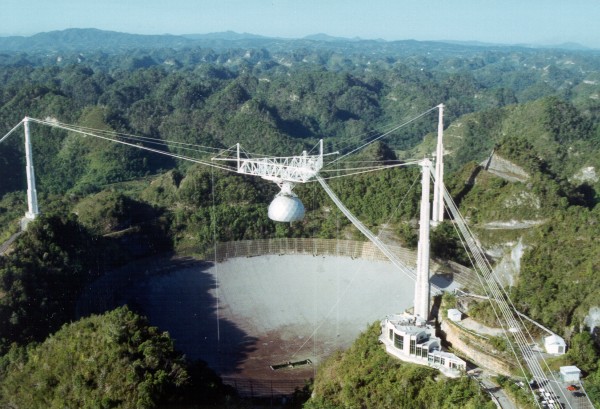 Photo courtesy of the NAIC - Arecibo Observatory, a facility of the NSF.

From Wikipedia, the free encyclopedia for Lares, PR, the Heladeria de Lares has become very popular for it's very unique ice cream. Flavors like corn to rice and beans are some of the clever flavors you can get. It's a nice place little place to go get some really good old fashion ice cream while shopping in the town square.
---
When:
Where:
Weather:
Surf:
Tides:
Who:
Thursday, December 28, 2006
Did not surf
Sunny with moving clouds, windy
Probably very small and blown out
N/A
N/A
---
Lazy Day. Nada mucho. Surf es muy flat. Lazy day of reading the San Juan Star, drink café, drink Heineken and a plate of Cofresí's pinchos. Sandwich criollos at The Brothers in the evening. Packed most of my stuff so I can make an early DP to Wilderness tomorrow morning in hope for a spot of small surf before the trip home. Paranderos woke me up at 11:30pm with their borachando and revelry... could not nod off again until almost 2am. :(

---
When:
Where:
Weather:
Surf:
Tides:
Who:
Friday, December 29, 2006 - 6:30am-9:30am
Ventured as far as Wilderness
Sunny with moving clouds, windy
Marginal at best
N/A
N/A
---
Getaway Day. Surveyed spots from Rincón to Wilderness. Nothing really working and strong easterly trades on the north coast. Brian's Place might have been in play this getaway day if there had been more time, but the wind was blowing hard and the current would have made it difficult to stay in position for the one peak that was working well. Peñon probably would have been sweet on another day with its protected position from the easterly wind, NE swell and not being a widely known spot. Stopped for a café and reposteria de cereza at my new spot near Little Teapoo and then cruised down to PdP to pay my last respects. After last packing, I joined Beth for some breakfast at Cofresí (acerola juice and café con leche for me).

The trip to the airport in San Juan was uneventful except for the three near-accidents in a small town headed north. Once we cleared this congested zone it was relatively clear sailing. Timing was right for lunch at El Buen Café (role reversal!) instead of our usual getaway lunch at The Paradise in Rincón. Fair shakes since we were unable to stop for lunch on our arrival trip to the west coast. Ate our first amarillos and arroz amarillo of the trip! As we approached San Juan the traffic started to increase, not a surprise as it is a Friday on New Year's Eve weekend. Check-in was hassle-free even with a couple of bags on the weight margins. Stocked up on liquor at the duty free shops in SJU.

---
Wrap Up: Surf was not consistent throughout the trip, nor did it get very large. Nonetheless, I did have several fun days of surfing leading up to an epic session. No lechón asado or pasteles this trip. Other quirks: did not eat at KaPlash, and only once at Panaderia Borinquen (and that was only a jamon, huevo y queso sandwich) and The Paradise. Only surfed four breaks: PdP, Agüeybaná, Wilderness and Surfers' Beach - no Tabla de Roca, Little Teapoo, Maria's Beach, Domes, Crashboat, Bridges, etc.). Surfed PdP a ton after not hitting it much at all the past few years, but only surfed Wilderness once. Definitely a year of quirks.

Trips: Blue line was trip day to the Observatory. Yellow represents other excursions.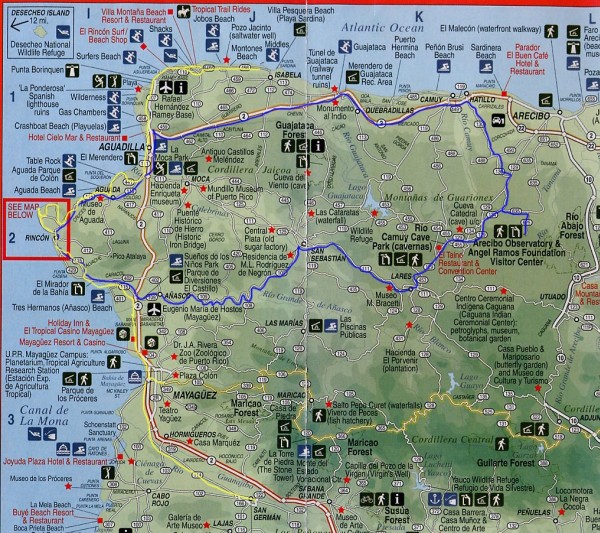 ---