Quick recovery from Surf Movie Night at Dr. Dremo's. Early to bed had me up before the roosters' crowing this morning. Neal thanked me later for the 3:30am voice mail call, "I am on my way to pick up the Pirate... coastal real-time weather nodes are reporting NW winds at 10mph. Time to go." It is still kinda early for him to be waking up so I stopped at a nearby service station to service my Green Disk V -- apply a good base coat of wax, pop in 3 fins, and apply another coat of wax. I didn't want a slick surface today.

Neal and I are heading coastal by 4:45am.
Check Minefields - blah small to non-existent at the main groin, 2 gremmies trying to catch waves in-between the groins in punchless knee to waist. It is a little cleaner on the south side of the 2nd groin as it is more protected from the NW wind, but it is all heaving over.
Henlopen Hotel and Little Trestles are not doing their thing... too much direct head-on swell causing it to mostly close-out or yield very short shoulders, maybe 2-3'. Not what we came for.
IRIS is clean but non-existent. Interesting was the 4x4 in the parking lot upside down. We have to buzz by Northside because of the jetty/bridge construction project. The jetty looks tiny but the Cove has some punchless Dark Sider waves in the waist size range with very short shoulders. We head south. We are receiving phone calls from inquiring ASC'ers.
State Line disappoints. Looks punchless and not catching swell energy. More incoming phone calls.
120th looks more of the same but it's not closing out as much with more angle in the NE swell. More incoming phone calls. Typical comment, "Guess I'm better off at my desk today." Nah, I reply... it is still better to be at the beach under gray skies with off/on pineapple juice than to be coping with intra-office email and numbing tasks.
62nd is looking better but not up to "The Book of Standards for Wave Snobs." We didn't DP for this crap!
48th is crowded but there are nicely angled lefts in the waist to chest range. Probably about 30 people in the 48th-46th with a huge cluster f*ck going on in the middle... but it doesn't look THAT consistent.

Gazing just to the north we spot some consistent spitting barrels with maybe 2 to 4 souls spread out over 3 blocks. We drive 4 blocks north, perform the necessary pre-surf rituals and suit up. Paddle out. Catch wave. Catch second wave, a chest to head sized spitting, sucking barrel, down the line left. Kickout with air.
Catch wave #3, another chesty steep sucking take-off, down the line, sideslipping along the lip re-entry, turn and set for the curl to suck out as the locomotive sounds off behind me. Waves are clean, consistent, fast, tubular and offering up lip bashers, turns and tubes. It keeps on coming.
Neal is trying to cope with one eye (he learned yesterday at JH's Wilmer Eye Clinic that it is an eye muscle thing... too much of those grrlie mags for him!!! It has been a rough 4 weeks). Challenge. Gray water blends in with gray horizons. He catches some but is also adjusting to a short board after longboarding on sunny, micro surf during ASC weekend. He has some thumping drops.
Three hours of water time before the outgoing tide is sucking the size and shape from the surf and the wind, although seemingly offshore, it is creating a northerly cross chop. Very inconsistent by noon. Very few rights today, the lefts were plentiful and riveting. Probably better than any of my Costa Rica sessions for overall wave quality, consistency, thump and tubiness. 70F water/air would have been nice ;)
The 4/3 plus the 4-5mm gloves and socks and Ti-vest/hood kept me plenty toasty. Didn't need the hood because of the water, but it cut down the ear chill from the wind.... and I couldn't hear Neal bitching about his abilities! (He actually did very well given his handicap, but still earned the "Kirked Out Award" for the day.) He smiled... but drank all my beer on the drive home... and cussed out John Walker for calling on the cell (answering the phone caused him to spill an entire large bag of vinegar and salt potato chips on the Surf Wagon's floor!).
Sorry about the earlier condition reports provided to all that had called, but they were truthful and we weren't prepared to call back a half-dozen poor souls strapped to their keyboards before hitting what beckoned us.
Eye candy: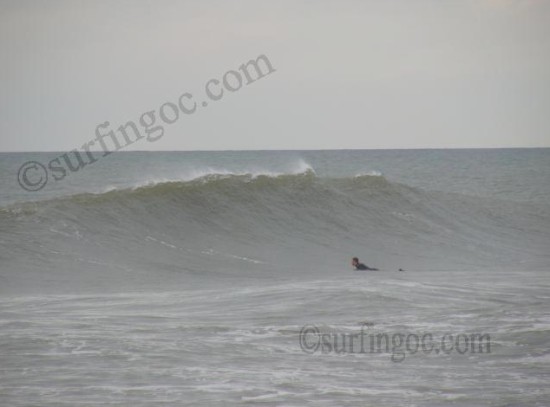 http://www.surfingoc.com/forum/index.php?act=module&module=gallery&cmd=si&img=3387
Courtesy of
SurfingOC
.